Available on: Etsy
Seller: ABitofWhimsyArt
Artist: Joanna Haber
When it comes to art, imagination & passion are the only references for Joanna Haber. Inspiration comes from everywhere for her and she feels that each piece is truly a part of her. Drawing has been a safe place for her since childhood but never thought those little sketches could go anywhere outside of her own journals until 2010.
Spire Trends: We always love to know more about the artist. Would you tell us a little bit about yourself?
Joanna Haber: I'm a 40 something person. I used to label myself as a "mom" as if being a mom defined who I am. I am a wife married umpteen years. My art is my life and a its a full time job for me. In the beginning it was a struggle and without the love and support of my husband I'm not sure my art would be possible. I am a proud mom of two kids now 11 and 14!
I've always said that it's through them that I've learned to reach for the stars and never stop striving to do what you love. They were toddlers then when I would say that to them.... never realizing those strong words could apply to me as well. You see until they were born, art was simply a hobby for me.... many years went by here and there that I never even picked up a pencil.
I worked in an office of an insurance company for 13 years before deciding to start a family. A stark contrast to the life that I lead today. Something happens to you when you reach a certain age and you start reflecting on what it is that's really important to you.
I lost my dad in 2010 when my passion for art sparked within. He was my kindred spirit, a very quiet man but there's something said about being able to connect with someone on a spiritual level. I never saw my dad draw, paint. But I know deep down in side that it's him that gave me this gift.
I drew a fairy in the waiting room of the hospital on the day of his pancreatic surgery. He only lived for a month afterwards, it was that drawing that lays with him now and it was that drawing that started it all.
I never stopped.... compiling multiple pieces that I felt needed to be seen, needed to be enjoyed by others. At this time my youngest was going to school full time (first grade) Faced with the decision of going back to work, or giving my dream a shot. I took the plunge and opened up my Etsy shop in 2011.
Spire Trends: Your works are very dreamy and takes everyone to a fantasy world. What is the real inspiration behind all of those works, or where do you get all these ideas?
Joanna Haber: Inspiration comes from everywhere.... but I have to admit that every time I sit down to do an original piece... my mind always reverts back to that little girl during my school days who had no friends, who was constantly told "you're fat" "go away".
That feeling of being "excluded" "excluded" "unloved". I was even overshadowed by my older sister who was more outgoing and did often show off her skills. It feels weird putting these words down because my life now is so full of love and inclusion. It's only when I'm creating that the "child within" comes out.
These girls represent those unloved fragile beings who desire comfort so deeply that they fall into a despair, a kind of despair where there is no hope, no light... (I'm pouring my heart out right now, forgive me for getting so deep). The look in their eyes are that of yearning. They're saying "take me, take me and care for me". I grew up being very shy, now as an adult realizing that I'm an introvert in every sense of the word. My art is my safe haven, my art is *me*.
Spire Trends: Do you do custom work... how does it work?
Joanna Haber: Yes, I do custom works of all sorts. Portraits for kids, families, couples. As well as fantasy custom pieces... I like to tell people, "share your vision with me and I'll help you see it come to life!" :) It's simple, reach out through Etsy, I'll provide a quote. I request 50% before starting and the balance won't be due until completion. Depending on my schedule at the time I usually need about four weeks. All of my works of course can be seen in my Etsy shop. Each time one is completed I'll make up a listing as an example.
Spire Trends: Your Etsy shop has been active for a long time… how was Etsy when you started and how is it now?
Joanna Haber: Etsy has gone through many changes since I first opened shop. I used to enjoy curating "treasuries" collections of items from fellow etsians.. it was a way that we could connect as business owners promoting one another. I miss the camaraderie from fellow etsians. Etsy now has sole control over what items are seen (or not seen) throughout their site. Promoting my business through other social media outlets has become very time consuming. But enjoy connecting with potential clients.
Spire Trends: How do you balance your work and personal life?
Joanna Haber: I have to pinch myself each day as the kids go off to school and I'm given the opportunity to be my own boss, make up my own hours. I'm blessed that with my husbands support I am able to call my art "my day joy". When the kids come home from school, they have my full attention. Any free time I have I can retreat to my work room and sketch away at my pleasure.
Spire Trends: What is the toughest part of being an artist?
Joanna Haber: The term "starving artist" is as true as it gets... I'm often asked "why do you charge so much".. I like to use the whole "plumber" comparison. People, myself included, will lay down hundreds of dollars an hour for plumber/electrician (or whatever the profession may be) services a job potentially costing thousands... yet people question a few hundred dollars for a family portrait that will take me upwards of 20 hours to complete.
Long story short, the most challenging part of my job is trying to figure out how do I turn what I love to do into a "business" that could sustain me and my family. Turn my art into a career, a tangible thriving career.
Spire Trends: What is a typical day for you? How many hours do you work?
Joanna Haber: Ship the kiddies off to school. Send the husband off to work. Then depending on how many commissions I'm juggling I'll tackle one in the morning, work on one in the afternoon. In Between corresponding with clients with updates on their pieces. Fielding emails for potential clients. Spending some time on social media... I like to share all of my works in progress though either instagram and facebook, so time spent there is always a nice downtime for me.
I'm working every second that I can squeeze into my day, if I were to pinpoint how many hours, I would say a good 5 hours drawing/painting 1 to 2 hours networking with clients and potential clients through social media.
Spire Trends: What are the projects you are working on now?
Joanna Haber: Right now, I'm working on a mixed bag of requests. A whimsical couple's portrait for a husband and wife, I have a pic for reference, but the wife would like me to romanticize it up for them ;) A fantasy piece of three fairies... this is a husband whose wife is an author of a book about three magical creatures. A piece for a Korean couple, a bit hard to describe, it's a drawing of the South Korean map, with two trees, each marking the cities they were born. A fun piece ordered for a best friend, the image is two fairies kissing with an infinity sign in background which will incorporate their names. Lastly, a monogram for a Goddaughter, the letter S with all of her favorite things, a hummingbird, a kitten and a cricket.
All of my works are hand drawn/painted... I can only hope that my clients can appreciate all of the love and passion that goes into each piece.
Spire Trends: What is your medium of choice for your artworks?
Joanna Haber: Pencil has always been my medium of choice... they always seem to be at my disposal and have become sort of my comfort level for creating. I'm a self taught artist and somewhere along the way discovered Graphite and all the variations of shades I can accomplish with them. Watercolors have happened by accident, for those clients asking that I add color, gave it shot and have since fallen in love with the paint brush. Lastly, coffee staining has become a favorite medium of mine... I simply love the dark rich browns that I can achieve with it compared to watercolors or any other paints out there. Good old fashioned paper works best for me, it's the simplicity of the mediums that I favor. There's something pure and organic that happens when pencil hits paper :)
Spire Trends:
Thank you Joanna for the opportunity. Please find her on Facebook, Twitter, Instagram, Google +, Pinterest and her Blog.
Below are some of our favourite pieces from A Bit of Whimsy Art
shop on Etsy.
This is fine art Giclee print of Joanna's original fashion Illustration pencil drawing~ She's called "The Beauty Within". BUY HERE
Untitled fine art Giclee print of original artwork. BUY HERE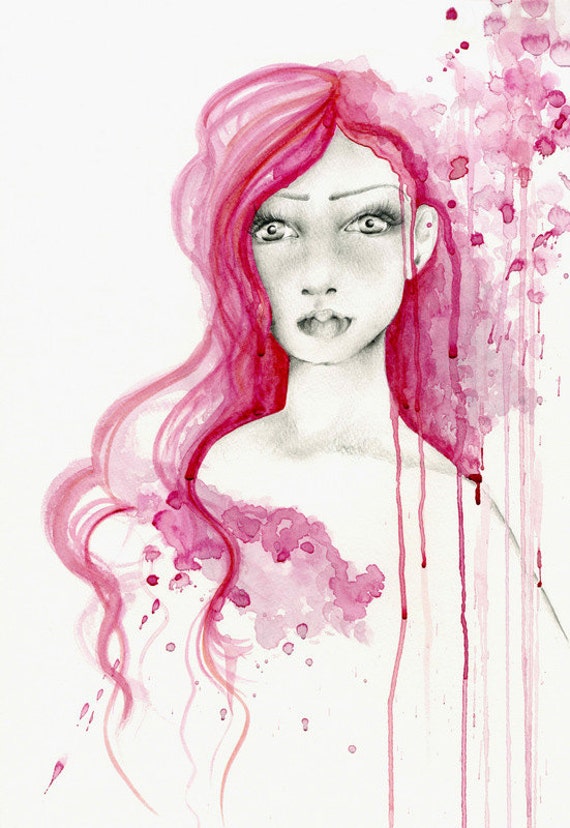 Original one of a kind work of art. Hand drawn using a combination of graphite pencils & watercolor paints. She is on 15" X 22" archival premium 140lb (cold pressed) watercolor painting paper. BUY HERE
Original Fashion Illustration Pencil Drawing. BUY HERE