Available on: Etsy
Seller: Ghirlandiamo
Designer: Lia Russo
We recently stumbled upon an Etsy seller and designer and immediately we send a request for an interview. Please find the exclusive interview with Lia from Ghirlandiamo.
Spire Trends: Lia, could you tell us a little and how you started with your handmade home decor business?
Lia: It was only a hobby, now it's a full time job!
In the greatest Italian poem "Devine Comedy", by Dante Alighieri, he wrote about a girl named Lia, who was preparing a wreath: my name is Lia, I'm …no longer a girl, but I'm fond of wreaths!
So in my name my destiny! In nomen omen!
For many years I filled up my friends' homes and mine with my wreaths and a lot of decorations. When relatives and friends could probably not stand my gifts anymore .... they suggested me to sell them!
And when l finally decided to transform my creativity skills and my experience into a real job, I soon realized that passion and creativity were not enough: to really make a professional improvement l had to raise the bar to professional attitude and highest quality materials.
Now my decors are the final result of creativity, manual skills, passion and professionalism too.
Spire Trends: So you turned your passion into a business! That is awesome! When I go though your shop, I see spring everywhere and it is very colorful. Could you tell us what are the materials you use for creating your craft? Are they all locally sourced materials to give a true Italian or European experience?
Lia: I live in Salerno: a nice town in South Italy, right on the sea, with sunny weather and warm temperature. All around me the nature has strong colors.
Furthermore I'm very close to Paestum and Pompei, with their great Greek and Roman ruins.
So all that influences and inspires my colorful crafts and my creativity.
From nature I capture not only ideas, but also the materials it offers, reworking them according to my fantasy.
The natural materials I generally use are bamboo, burlap, dried flowers and leaves, branches, rope, shells, berries and much more.
Of course I also need to use faux flowers and other decorative elements, always assuring the best quality and the most natural look. I generally buy them locally, but also abroad.
I think it's not the materials origin to mark my crafts, but the style they are worked in and I think my home decor completely reflect what people generally expect from a "made in Italy" product.
I hope to give people, who buy one of my crafts, a little emotion having at home a bit of made in Italy.
Spire Trends: They are all really beautiful and very surreal! Would you tell us how your typical work day is like? I mean after getting an order, how do you proceed with it? Are you doing all the design and other works by yourself?
Lia: Each one of my crafts is totally designed, created and handmade personally by me.
Marked by my personal style, all my creations are different from one another: they cannot and will never be identical.
I have two ways of selling: people can buy the ready products in my online shop or can ask me for a custom product.
I love it when people talk to me about their desires. I elaborate the elements they give me, then I propose my idea and soon they say "you perfectly got what l was thinking about!". This always gives me great satisfaction and motivation to work harder!
When people buy something directly from my shop, I immediately prepare the shipping, never forgetting to add a tiny gift and a handwritten card with thanks and greetings from Italy.
Spire Trends: How do you promote your Etsy shop online? Are you heavily involved in the social media promotions?
Lia: I love the idea that my creations, thanks to my online shop, can reach faraway countries all over the world, as I'd like to give anyone a bit of Italy through my handmade decors.
I decided to sell only online and of course this gives me so much to do! Oh, if I could hire a social media manager! Haha
I'm heavily involved in social media, most of all in those ones I think suit my products and my personality more.
Spire Trends: Thank you Lia for the great opportunity to chat with you. We like our readers to find you in your social media profiles and would you like to share that with us.
For more information about me and my crafts, please visit my Etsy shop and my social media. Feel free to contact me for any special request.
Etsy: www.ghirlandiamo.etsy.com
Facebook: www.facebook.com/ghirlandiamo
Pinterest: www.pinterest.com/ghirlandiamo
Instagram: www.instagram.com/ghirlandiamo
Here are some of our favourite items from Lia's shop: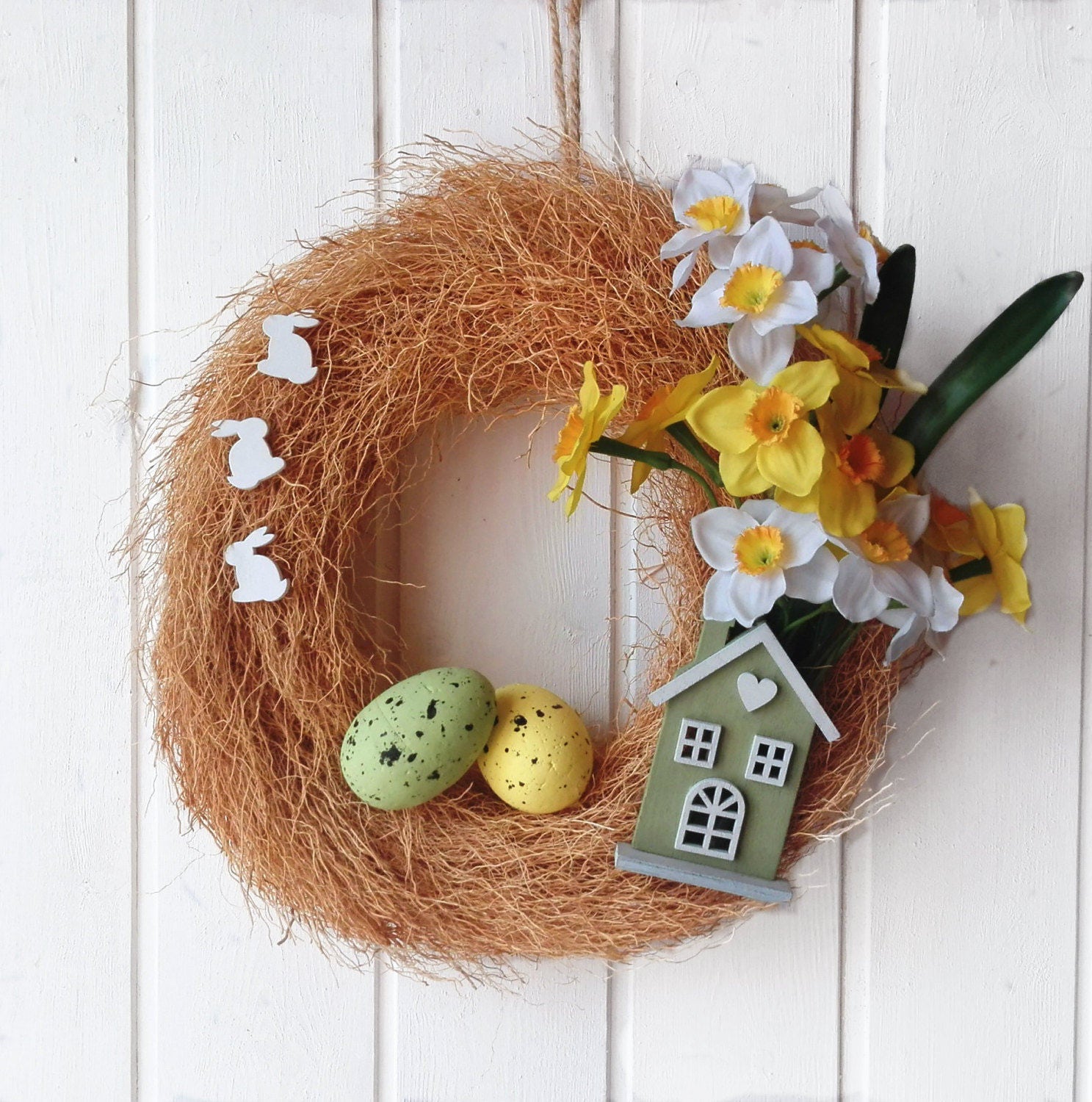 This natural Easter wreath is made with a stuff of very thin real dried stems. Decorated the stems wreath with daffodils, a pretty house, eggs and rabbits.
A unique, original gift for a friend or.... yourself: a spring Easter wreath with yellow flowers! [BUY HERE]
This classy Italian wreath is a gorgeous wall decor! It's rustic and smart at the same time, anyway perfect, as fireplace wreath, wall decor or year round unique decor! [BUY HERE]
It's an Italian style front door cornflower wreath. A unique summer fireplace decor, perfect to enhance your country house or as unique wall decor in your city home. [BUY HERE]
Original herbs kitchen decor! It's a mini pallet decorated with herbs and lavender! [BUY HERE]
This piece of Italian ceramic wall art will really represent a unique home accent! [BUY HERE]
It's a lovely and scented dried flower collage, with true lavander! This collage with flowers and a touch of Italian ceramic soon carries you away into a summer country landscape, and at the same time it gives you a sense of freshness! [BUY HERE]
Picture with heart shaped stones, from Amalfi Coast, nice home decor made in Italy with Amalfi and Positano heart stones. [BUY HERE]